In 1999 I left to work in the UK and whilst there, specialized further in Special Needs through the Helen Arkell Dyslexic Centre. I worked at an amazing school in London, which specifically catered for children with learning difficulties, and it was whilst working here, that I started discovering the extreme advantages of using Drama as a therapy medium in their lives.
Children coping with difficulties and differences to other children, coming out of broken homes and surviving abusive situations, find Drama role playing and improvisations very therapeutic and healing.
Drama therapy is a different form of therapy. Drama therapy concentrates on play and improvising.  Children make more progress using drama therapy. Through the use of role-play and other such improvisational skills and fun activities, children are allowed to explore their feelings in a safe environment.
Due to the high costs involved in therapy for children and supporting their emotional needs, Hope Drama creates a workable solution that addresses these issues head on.
Mission
1. It gives an opportunity to support children's emotional well-being.
2. It provides a platform to empower children in need of support.
3. Youth/individuals become involved to help support and comfort other children through sustainable small drama projects of their own.
4. The youth/individuals experience engagement with different cultures and societies.
Vision
Youths/individuals being supported emotionally and giving them a form of therapy at no cost since it is too expensive for them to receive professional support privately.
It is a personal development program, which build young people's self-esteem and confidence and provide them with an opportunity to learn new skills in coping with life situations which they might encounter in their lives. Helping them to become an emotionally stronger future generation.
Program's Impact
Through Hope Drama, children from various backgrounds empower them for situations they might encounter in their lives. This has proven to be extremely successful and the children thrive and grow emotionally stronger.
We cover the following topics throughout a year program:
1. Abuse
Children might face various forms of abuse in their life, physical, sexual or emotional. This section supports and gives tools to children currently being abused or children who might be going through abuse in the future.
2.Attachment
Children have the need to cultivate a secure relationship with at least one primary carer. Through our sessions we aim to help develop secure or repair insecure
attachments.
3.Anxiety
Anxiety is caused by environmental disturbances or chemical imbalances in the brain.
The objective is to externalize the worry or anxiety, reducing it to a manageable size and not something that can take over their lives.
4.Anger
Angry, aggressive behaviour is often the result of emotions that hide a deep sense of hurt and sadness, usually associated with some level of loss. The loss can only be treated once the angry feelings have been dealt with. Our aim is to treat these feelings of anger and deal with the crux of the matter.
5.Bereavement
Children suffer loss which entails stages of grief which needs to be dealt with. We support children coping with simple grief, such as losing a pet, as well as complicated grief, such as losing a significant person, by giving then tools to cope and progress.
6.Bullying
There are various forms of bullying and children need to be informed what is considered as physical, emotional, verbal or sexual bullying. They are given tools to cope with bullying and reporting bullying to help with prevention.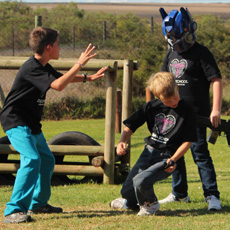 7.Parental separation
Children suffer sadness due to parents separating and struggle to cope with their mixed emotions. Through our activities we don't treat, but support children going through a difficult time of parental separation.
8.Sibling rivalry
The emotional impact of sibling rivalry does have an emotional impact on a child, which can be disturbing or even devastating. Our objective is to teach children to recognise what they have in common with their siblings and how they could support each other.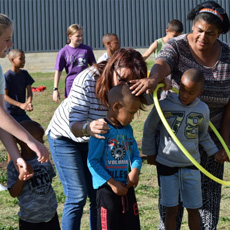 9.Nightmares
Nightmares refer to different aspects of a child's life. Recurring or frequent nightmares relates to them experiencing a degree of stress, which they struggle to process during the hours of sleep. Through our sessions we look at nightmares, discuss its root and change the bad outcomes into a good one to lay the nightmares to rest.
10.Lack of confidence/ Low self-esteem
Some children suffer a lack of a sense of their own identity and worth due to generic traits, place in the family, multiple changes in the family or home, loss, bereavement, neglect, abuse, parental expectations, over-critical or inconsistent parenting. We aim through our sessions to encourage children to identify those qualities within themselves which will help build their resilience.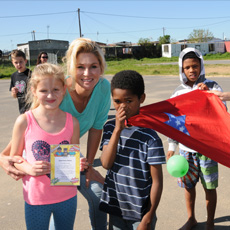 11.Compulsive lying
Children fabricate stories and sometimes struggle to distinguish between fact and fantasy, which could lead to major issues when they become older. Always trying to lie to create the ideal world they would like to live in. We deal with this section giving children a true sense of identity and worth, showing them their world is enough without fabricating something different.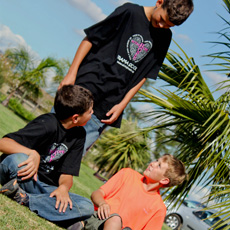 12.Learnt behaviour
Learnt behaviour is behaviour copied from other children causing them to act inappropriately or in a socially unacceptable manner. The aim of these sessions is to teach children the connection between action and consequence.
13.Trauma and shock
Children witness violence, inappropriate material and abuse within the home and community which affects them emotionally. We aim only to do extra activities in gaining trust, confidence and self-esteem to give them tools to cope.
14.Socially inappropriate behaviour
Children display inappropriate behaviour due to Asperger's syndrome, Autism or copying behaviour that is not socially acceptable.
We aim to get children to identify inappropriate behaviour and teaching themselves to behave in certain situations.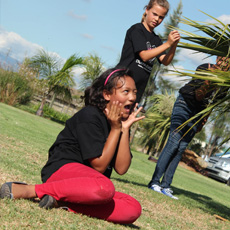 15.Neglect
Children suffering from neglect will act withdrawn and isolated or even appear aggressive or overly confident. It can breed resilience which needs to be addressed amongst children. We aim to help children develop an appropriate coping mechanism which will serve them in times of hopelessness.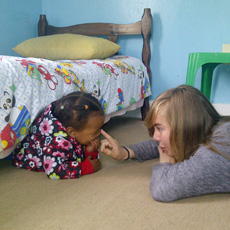 16.Depression
Children sometimes suffer feelings of sadness and hopelessness. This may render them from living in a carefree and spontaneous world. We try identifying forms of depression and giving them ideas on how to cope with these feelings as they overwhelm them.Furthermore, identifying depression amongst their friends or family relatives, supporting them if needed.